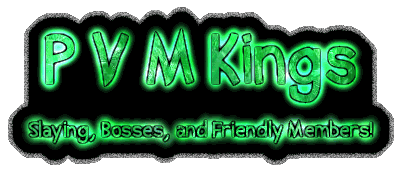 Get Ready to Reign with P V M Kings!
Are you ready to conquer the server like never before? Introducing P V M Kings – the ultimate destination for an inclusive and electrifying gaming experience!
Calling all gamers – newbies, experts, and legends alike!
Join our open clan and step into a world of exhilarating adventures, heart-pounding Raids, and jaw-dropping PVM challenges. But that's not all – brace yourselves for an explosion of diversity with our mind-blowing clan Events!
At P V M Kings, we're more than a clan – we're a family. Our mission? To create an oasis of camaraderie and support, making every member feel right at home in the PKHonor gaming universe. No question goes unanswered, no challenge too daunting with our team of friendly and knowledgeable staff at your beck and call.
Crush your foes and achieve greatness with the guidance of our battle-hardened Honor accounts, standing by to empower your PVM journey.
Join our active discord buzzing with activity 24/7. Connect with fellow gamers, discuss strategies, and share your achievements. Forge new friendships and immerse yourself in a positive, inclusive community that shares your passion for gaming.


At PVM Kings, every gamer is treated like royalty. We prioritize creating a friendly and welcoming environment where diversity is celebrated and respect is paramount.